Oppo Electronics Corp. is a manufacturer of electronics devices such as MP3 players, portable media players, LCD-TVs, and DVD / Blu-ray players etc. since 2004. It was founded in China and is based in Guangdong. The company also makes Android based smartphones.
Launched in October 2017, Oppo's  F5 smartphone comes with the tag line of 'capture the real you'. The device has 6" touchscreen display. Priced at the Rs 18,299, the device comes with 4GB of RAM and 32 GB of internal storage which is expandable up to 256GB via a microSD card.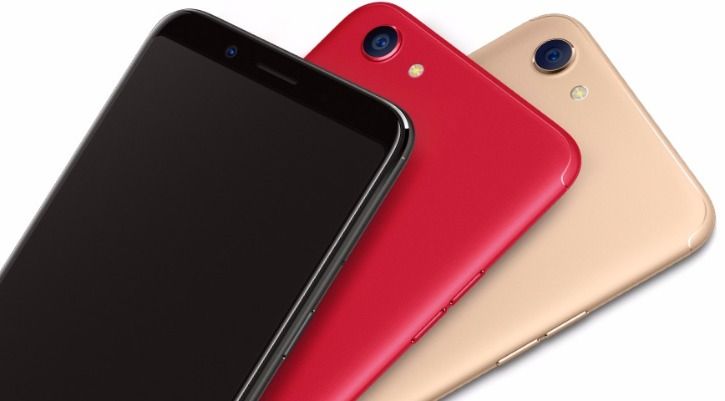 For selfies lover, the 16-megapixel primary camera is on the rear panel and a 20-megapixel front camera, of the device. The handset runs on Android 7.1 powered by non-removable battery of 3200 mAh . Weighing around 152grams the dimensions of the phone are 156.50 x 76.00 x 7.50.
The Wi-Fi enabled device has dual SIM slots and lots more features such as Bluetooth, USB OTG, FM, 3G and 4G support. Sensors includes Proximity sensor, Accelerometer, Ambient light sensor and Gyroscope.
The device is the first smart phone that brings A.I. (Artificial Intelligence) into selfie feature in India.  With years of R&D, the handset could identify shapes and facial structure based on global database. A.I. technology in the device has ability to help selfies look more real and natural.
The device can distinguish each person's face features from skin tone and type, gender, age and more. The sensor in the device will not enhance soft or feminine features for male subjects. Children or babies don't get enhancements that may make them look like an adult.
The front camera Portrait mode also applies a Bokeh effect to the background creating better gradation. This makes you focus more on the selfie shot every time.  The rear camera is excellent for all day and night shots. The sleek unibody of the handset offers a slim appearance. Without any cut-offs, the gracefully curved body fits in palm easily and comfortably landing an elegant and impressive look. The user's palm will definitely not feel tired even after long usage of handset, may it be for chatting or playing games.
F5 comes with Facial Unlock, the new face recognition technology to recognize its user and unlock the phone. But fingerprint unlock is also present on the back of the phone giving way to a full front screen handset.
Color OS 3.2 from Oppo gives user a smooth surfing experience. A triple slot card supports two Nano cards and one TF card side by side. The exceptional battery life of F5 and Continuous Optimizing technology allows user, the 12 hours continuous use.
Targeting gamer's genre, the Game Acceleration feature of Oppo F5 is an add-on feature. It allows smooth gaming experience apart from optimizing the game display configuration to fully utilize hardware resource.
The O-share file sharing technology is 100 times faster than Bluetooth which enables transferring 8 to 10 pictures of around 3 MB each within 1 second.
The Split Screen feature allows multi-tasking like chat, listening to songs and surfing social media in a single go.
A Thing of Beauty Needs Some Beautification Too
Your partner for beautifying your handset, Oppo F5, is Hamee India. You may have such a wide range of covers from Hamee India that is simply unbelievable. Each cover signifies a fact with subtle patterns .
For environmentalist species, here is a blue peacock print Hamee India Oppo F5 back cover which is a perfect fit cover for the phone.
The Buddha cover offers serenity and peace of mind to the holder as the positive vibes may follow from anywhere.
The skull designer Oppo F5 case from Hamee India comes with unique and high quality printing on the surface.
Thin, light & durable polycarbonate cases from Hamee India protect your handset from scratches and drops. The raised lip on the case sides offers screen protection. The case is seamlessly moulded with no sharp edges to protect your dress`s pocket and palm at the same time. The lord Shiva print on cover is divine and offers immense power and faith in your deity.
Let your fierce attitude be flaunted with this tiger faced phone cover from Hamee India.  Precision cut-outs on this case leave all buttons, ports, speakers and microphones completely open. This case is 100% compatible with your regular charger and headphones. 
The mandala printed Oppo F5 covers from Hamee India are so eye catching that no one can escape their aura. The colours used are so vibrant that it feels amazing. It offers excellent grip on handset.
The hard shell case cover from Hamee India symbolizes sternness and rigidity in life. The covers inspire to stay hard and yet decorative against all the harsh realities faced in life. For the love of flowers, the hard cover case offers a lovely combo with your desired acquisition. The colour combination of flowers and the background is soothing and luring at the same time. 
The Oppo F5 printed cover from Hamee India can be customized as per your requirement. So treat yourself to a fantastic new cover from Hamee India!
 - Simran Aggarwal